For whom and to what silhouette is it adapted?
To understand for next season it is still the star!
All the creators decline it in different models, to make you crack again and again …
But here, this dress is made to put the curves of the woman in value but does not adapt to all body types. It is therefore very important for us "women" to take a closer look …
The trend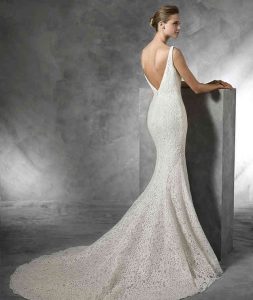 Refined, elegant, glamorous … so many adjectives to describe one of the flagship models of the 2018 season in MARRIED DRESS.
With its cut close to the body, and its flared bottom, the slightest curves of your body will be highlighted. They are available in different materials: silk, lace, organza … All as refined as each other.
For the top of the dress, you will also have the choice, from the bustier to the bare back, passing by the top jewel, again a wide choice can adapt to your body type.
Body types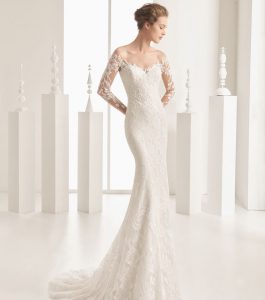 As the name suggests, the Mermaid's Mermaid DRESS, aims to marry up and down the woman's body. They are best suited to women with broad shoulders, long legs, slender waist to avoid the "packed" effect. Attention should be paid to the length and volume of the petticoat.
If you are tall with marked waist and pronounced hips, this dress will suit you perfectly, thus creating a harmony with the model.
Nevertheless, be aware that this style of wedding dress will limit you in your moments, so do not plan to do an adventurous dance for the opening of your ball … Or think of a second outfit!
Hairdressing, make-up and accessories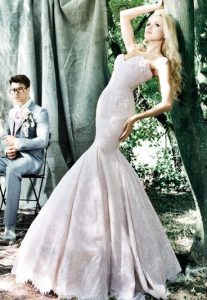 Some models will be offered with rhinestones, beads or other jewelry integrated directly on the dress. Discreet accessories, type: pearl necklace, solitaire, rush….
As for the wedding hairstyle, if your dress has a bare or indented back showing your shoulders, shoulder blades or other parts of the back, chignons or hairstyles will highlight this silhouette. Also a braid or natural hair put on the side can also bring a glamorous and sexy effect.
For the make-up part, it all depends on your taste, your character and the style you want to show. Do not charge too much either, the idea is to have a suit in its overall fairly elegant and refined.
A sophisticated make up, with a smokey eye and natural lips can perfectly blend with your mermaid dress.
The creators and shops
Creators: Max Chaoul Rime Arodaky, Christophe-Alexandre Docquin, Vera Wang
Stores: Pronovias, Pronuptia, Rosa Clara,
To each its models, its creators will propose you their style and their vision of the dress of a mermaid bride. It's up to you to find the perfect model for the most beautiful day of your life, your wedding.
If you cannot find the perfect dress in a shop, consider the custom option, by having your wedding dress made, you will have a unique model!
If you need advice or otherwise regarding the organization of your wedding, do not hesitate to contact your agency Label 'Emotion Côte d'Azur.